An endorsement a day in May
Today, I'm thrilled to be kicking off our "Endorsement a Day in May" series. Every day for the month of May, we'll be announcing a new campaign endorsement. 
Follow us on social media this month to see who's on our team – we'll be posting videos and quotes each day on Facebook and Twitter.
Today, I'm proud to have the support of my friend Hon. Jackie Weatherspoon.
A lifelong activist for human rights and justice, Jackie is a former NH State Representative and Minority Whip, co-chair of the NHDP's African American Caucus, and a member of the Advisory Committee at the US Commission on Civil Rights.
I met her through my work on the party Platform Committee, and she shared some reflections on why she's supporting our campaign. Click here to hear her share in her own words: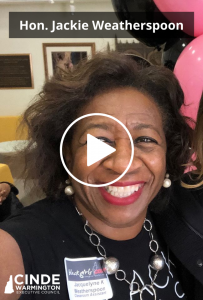 The elected officials and activists we're announcing this month represent the very best of our state. They're public servants, organizers, and action-takers who have made an immense difference for New Hampshire, and I'm so proud to have them in our corner.