Keene Sentinel: Democratic candidates voice support for reproductive health services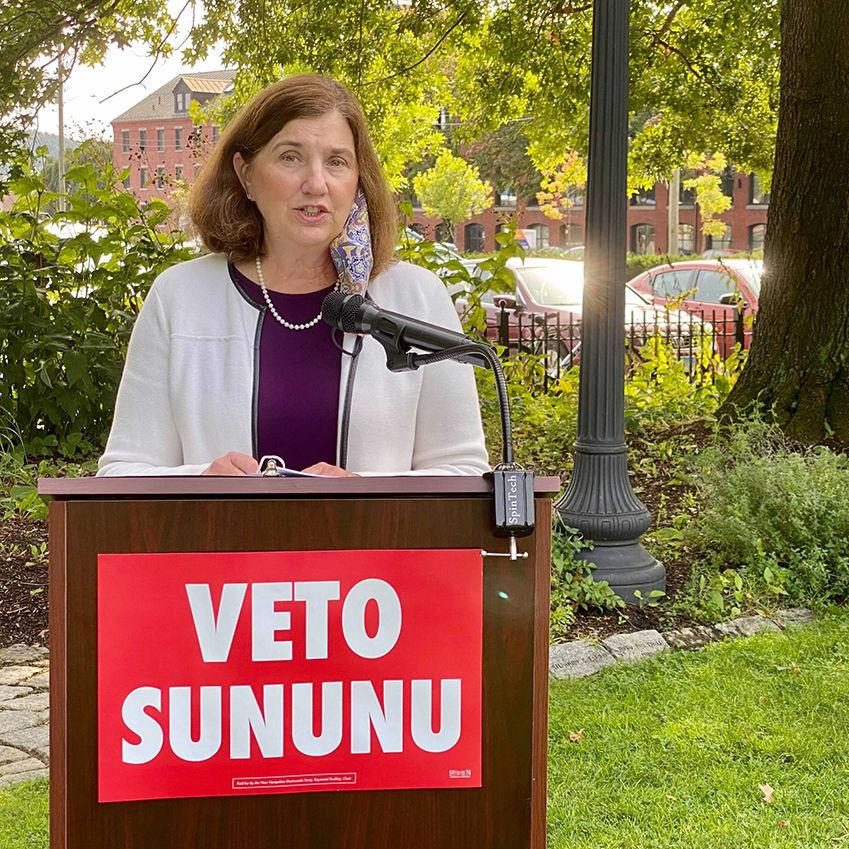 Standing behind a podium with a "Veto Sununu" placard taped to the front, a pair of Democratic candidates for state offices spoke at Ashuelot River Park in Keene Thursday, taking aim at what they say are efforts by Gov. Chris Sununu to restrict access to reproductive health services.
Cinde Warmington, a Concord attorney and the Democratic nominee for the N.H. Executive Council's second district, has campaigned on a platform that prioritizes reproductive health rights. She continued to share that message Thursday at a small event organized by the N.H. Democratic Party, attended by a couple of members of the party and a reporter. Warmington was joined by Amanda Elizabeth Toll, one of two Democratic nominees for Keene's two at-large seats in the N.H. House of Representatives. A local business owner, Toll has also campaigned heavily on a women's rights platform.
At Thursday morning's event, Warmington criticized what she described as the GOP's effort to ban or limit access to abortion services. The latest example of this, she said, was Sununu's veto of House Bill 685, which would have required insurance plans that cover maternity benefits to cover emergency or elective abortion services as well. She also called out Sununu for his 2015 vote, as an executive councilor, to defund Planned Parenthood.
In a letter explaining his veto of HB 685, Sununu wrote: "The vast majority of the commercially insured in New Hampshire already have coverage of abortion services. The legislation also raises constitutional concerns by forcing employers who morally object to offering coverage that violates their religious tenets."
In 2015, Sununu told N.H. Public Radio that his Planned Parenthood vote stemmed from claims that the organization was involved in a crime. As reported by The New York Times, about a month before the vote, Planned Parenthood came under fire after a video surfaced depicting an official from the group explaining how it provides fetal parts to medical researchers. But despite allegations that the organization was illegally trafficking fetal parts, the video showed no evidence that Planned Parenthood was profiting from tissue donations, according to the website for the U.S. House Committee on Oversight and Reform.
If elected, Warmington said she'll work to protect reproductive health services.
"I will protect Planned Parenthood funding. I will make sure any nominee to the Supreme Court will uphold our fundamental rights," Warmington said. "I will make sure that we have agency appointments of people who will protect reproductive rights, family planning services, and I will also make sure that if there's any reallocation of funds to be done at the Department of Health and Human Services or otherwise, that those funds will not be reallocated away from reproductive health-care services."
Warmington was one of five Executive Council candidates endorsed this week by the Planned Parenthood New Hampshire Action Fund PAC. On Thursday, the PAC also announced its endorsement of Democrat Dan Feltes, who will be Sununu's opponent in November's general election.
Toll said the fight to protect access to reproductive health care is a personal one.
"When I was a teenager, I needed an abortion," she said. "While I did face some abortion access barriers, I was lucky and able to afford the procedure out of pocket. Having access to this safe and legal medical procedure allowed me to go to college, graduate, start my career and have a child when I was ready to raise one. I worry about women who cannot afford an abortion like I could and want to fight for them, too."
She said politicians should not be able to legislate decisions about women's own health care, adding that this is a conversation to be had between a patient and a medical provider.
In the general election, Warmington will be up against Republican Jim Beard of Lempster, while Toll and Democratic incumbent Rep. Joe Schapiro will vie for the two Cheshire House District 16 seats seats against Republicans Matt Roach and Jerry Sickels.
Read Mia Summerson's piece for the Keene Sentinel here.