What is the Executive Council?
The Executive Council is a unique, five-member body in New Hampshire's state executive branch that serves as a check on the governor's power. The Council must approve all nominees to state courts, including the state Supreme Court; it must confirm appointments to state agencies like the Department of Education; and it must approve all state contracts over $10,000. It also leads the development of the state's 10-year transportation plan. The Council meets twice a month, year-round.
You can find the Council's meeting schedule, agenda, and minutes here.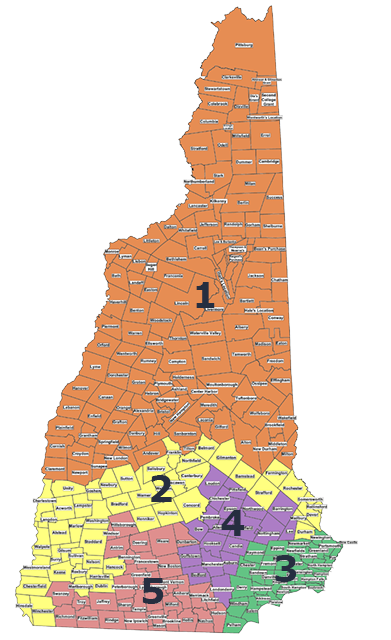 Each Executive Council district is one-fifth of the state's population, or about 263,000 people. Executive Council District 2 reaches across the state from the Vermont and Massachusetts borders at the west, to the Maine border at the east.
District 2 includes the cities of Concord, Dover, Franklin, Keene, Rochester, and Somersworth, and the towns of Acworth, Alstead, Barnstead, Belmont, Boscawen, Bradford, Canterbury, Charlestown, Chesterfield, Dublin, Durham, Farmington, Gilmanton, Gilsum, Goshen, Hancock, Harrisville, Henniker, Hinsdale, Hopkinton, Langdon, Lempster, Madbury, Marlborough, Marlow, Nelson, Newbury, Northfield, Rollinsford, Roxbury, Salisbury, Stoddard, Strafford, Sullivan, Surry, Sutton, Unity, Walpole, Warner, Washington, Webster, Westmoreland, and Winchester.